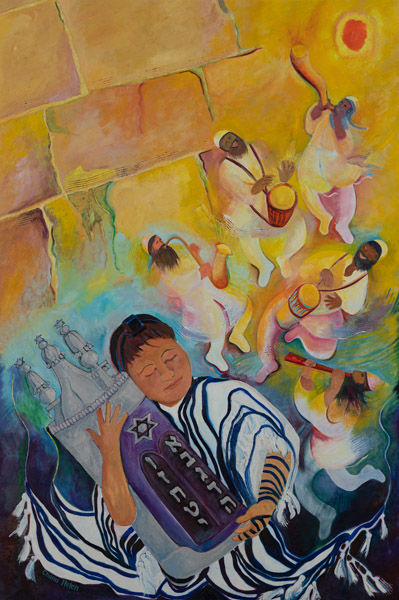 Mazal Tov!
I go to many Bar Mitzvahs and Weddings and enjoy joining in the celebrations. So these are two of my favourite subjects for my artwork. I paint the joy felt by the bride and groom or the bar mitzvah boy.
Sometimes I sketch people during these occasions.
However, I also use my memory as well as my imagination to paint my experiences. 'Bar Mitzvah at the Kotel', for example, is painted from my sketches. I drew them on the spot, when I lived in Jerusalem close to the Old City.
On the other hand, 'Bar Mitzvah Boy, The Kerchief' is painted from my imagination. It illustrates 'The Kerchief', a short story by S. Y. Agnon. It is about a boy who shows compassion to a beggar on the very day of his Bar Mitzvah.
In 'Wedding of The Creation' I express the eternal and spiritual bond of the bride and groom. They are above the wedding guests who are joyfully singing and dancing. They are inside the pomegranates, which are a symbol of fertility.
In 'Bride and Groom with Anemones' I express the love between the couple on their wedding day.
READ MY BLOG – TWO JEWELS UNITED
READ MY BLOG – TOGETHER IN SPIRITUAL LOVE (I share my personal story)
Wedding and Bar Mitzvah Mazal Tov cards may be bought on my Etsy Online Shop, as well as museum quality prints of my paintings.