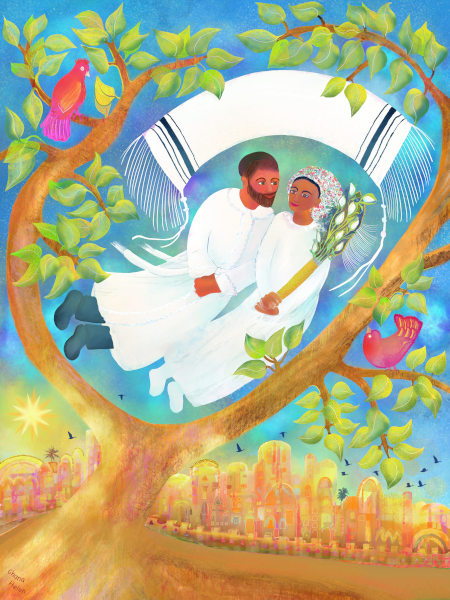 Two Jewels United in Love and Peace
As I am reading 'Two Jewels United', a poem by Avril Meallem, I am struck by the similarity of our feelings. Our feelings of being with our grooms as 'two jewels united in love and peace' on our respective wedding days.
Firstly, I must tell you that Avril and I are close friends. Actually, we are more than that. We are kindred spirits. Soul sisters.
However, Avril expresses herself in poetry, whereas I express myself in artwork.
'Two Jewels United' expresses in words what I am expressing in my papercut.
After reading 'Two Jewels United' and looking at my papercut, I think you will see what I mean. I think you will understand the spiritual uplifting that each of us felt when under the chuppah on our special wedding days.
Joined Together in Love and Peace
Lastly, we both share the hope for a life with our husbands 'together in love and peace'. The hope for our homes to be 'forever a sanctuary of love and shalom'. The hope that our love for our husbands 'will radiate out into the world'.
Two Jewels United
A poem by Avril Meallem
Two jewels have just been united –
under the chuppah we stood
the Shechina descended
and one and one became one.
Gifts from the Almighty
who have experienced so much joy
as we travelled our separate ways
from birth to this moment.
Now we are husband and wife –
a partnership formed under the heavens.
Let the love that we have for each other
radiate out to the world.
May Hashem shower us with His blessings
of wisdom, compassion and tranquility.
I pray that our journey,
begun today under the holy canopy,
will always be filled with God's light −
a journey of discovery and excitement.
And may our home be forever
a sanctuary of light and shalom.
A paper cut by Chana Helen Rosenberg