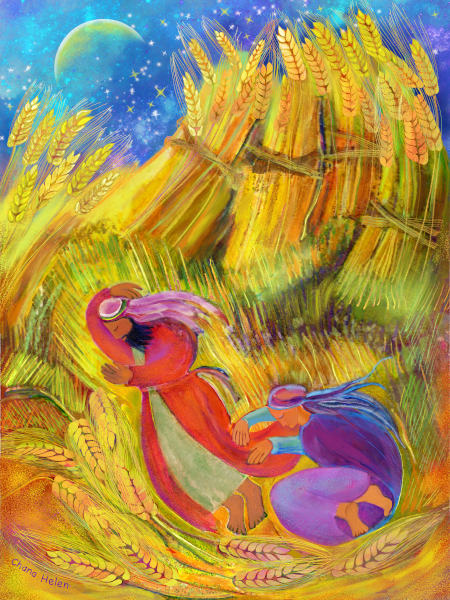 A Story of Love and Faith: Ruth, a Righteous Convert
SEE MY PAINTING: RUTH AND NAOMI
Love and Devotion: A Righteous Convert. The story of Ruth's attachment to Judaism is apparent in the desert. Ruth commits herself wholeheartedly to Judaism in a barren place. In the desert, on the way to Bethlehem.
READ THE STORY OF RUTH, A RIGHTEOUS CONVERT
The Desert Background
As I live in Beer Sheva, Israel, I see the cactus plants and palm trees from my windows, and as soon as I step outside. So I decided to paint them in the foreground of my painting, 'Ruth and Naomi'. My painting glows with the hot desert sun.
Ruth, a Righteous Convert, Clinging to Naomi
My painting shows Ruth clinging tearfully to Naomi.
So, this is the time when Ruth says, 'Do not urge me to leave you. Wherever you go, I will go; where you lodge, I will lodge. Your people are my people, and your God is my God.'
A truly righteous convert.
Collecting Leftover Barley
SEE MY PAINTING: RUTH GLEANING
In order to provide food for herself and Naomi, Ruth, the righteous convert, is gleaning. She is collecting leftover barley at harvest time in Bethlehem. As she was living with Naomi, whom she loved, of course this provided for her, too.
Ruth Visits Boaz
SEE MY PAINTING: RUTH AND BOAZ
Ruth is at the feet of Boaz at harvest time in Bethlehem.
'Boaz ate and drank and his heart was merry. He went to lie down at the end of the grain pile, and she (Ruth) came stealthily, uncovered his feet, and lay down'(Ruth 3:7).
SEE MY DRAWING: NAOMI AND OVED
Love and Devotion: A Righteous Convert
Finally, Ruth's love and devotion was justly rewarded. Boaz married the righteous convert and they had a son. He was named Oved; he was the father of Jesse, the father of David HaMelech (King David).
At last Naomi has a grandchild.
So, in my painting, she is lovingly holding Oved.
The end of the beautiful story of faith and trust in God is that Ruth is the Great Grandmother of King David.