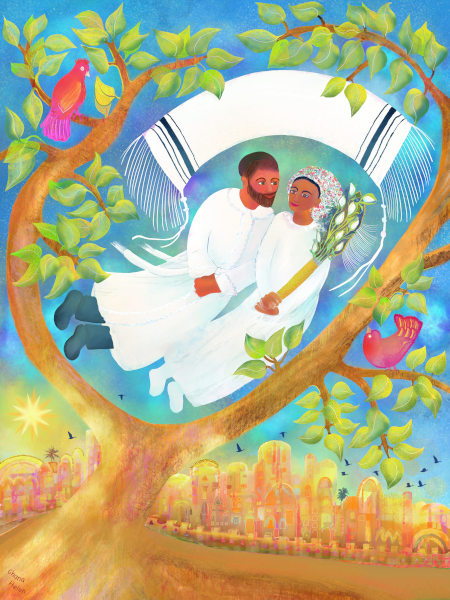 Together in Spiritual Love and Joy
My wedding artwork is very personal, as I am expressing my internal thoughts and feelings on my own wedding day. I am being lifted up with my groom, into a place where we are 'together in spiritual love and joy'.
As we are floating above the Jerusalem skyline, the tree, in the shape of King David's harp, is enveloping us.
Above us is the tallit (prayer shawl), which serves as our chuppah (bridal canopy).
Pictured: JERUSALEM WEDDING, DIGITAL ARTWORK, 2023
The Influence of Marc Chagall
Aha! I hear some of you say, 'Isn't this like the work of Marc Chagall?' I can unashamedly say that it is. However, Chagall paints from his own, personal experiences, whereas I paint from mine.
Of course, though, you must know that I greatly admire the dreamlike, poetic, almost magical quality of Chagall's work. He is a great artist, and I love his work.
"Art seems to me to be a state of soul more than anything else." ― Marc Chagall
Reminiscing in 2023 about my Aliyah in 2006
After making Aliyah (immigrating) from England, I am waking up in my tiny studio (one room) apartment in Nachlaot, Jerusalem. Although I am happy that I am fulfilling my dream, I am missing my Jewish husband whom I met in 1973. However, I then remind myself that I am working towards my goal of converting to Judaism. I am looking forward to marrying my husband – again – this time under the Chuppah (Bridal Canopy)!
My husband is still working in England but, besides that, we must be apart until I am formally Jewish.
Learning Hebrew
Setting off for the Ulpan where I am learning Hebrew, I have a spring in my step. I feel so privileged to be a student after spending my whole working life as a teacher.
After finishing my lessons I am enjoying my falafel outdoors.
Spiritual Love and Joy; Enjoying my Learning
No longer hungry, I am walking to Machon Orah, the Midrasha where I am enjoying learning towards my conversion. My first lesson is in Hebrew, but the next lessons today are in English.
At the end of the day, as I am walking back to my little room, I look around at my new environment. I think about the new experiences that I am soaking up.
For sure, Jerusalem is very different to the steel town in England that I left behind.
So, I continue learning and spend many, many more days, similar to this one. I am learning Hebrew in the mornings. Then, in the afternoons I am loving learning Judaism and the Jewish way of life.
Soon I will start recording my observations in my sketchbook.
Going before the Jerusalem Beit Din (Rabbinical Court)
So, now the day has come. I am going before three Rabbis in the Beit Din in Jerusalem. As you can imagine, I feel very excited, quite nervous, yet strong in my faith. However, I am simply answering the questions from my heart.
Finally, I hear the Rabbis say that I am ready to go to the Mikvah (ritual bath), which completes my conversion process.
Going to the Mikvah (Ritual Bath)
My Rabbi is driving me and my husband, who has come over from England, to the Mikvah. They are waiting outside, talking to each other whilst I go inside the bathhouse to get ready for my immersion.
I am going in as a non-Jew, but will be coming out as a Jew!
Now it is all over, I am going outside with a big smile on my face to see my waiting husband and my Rabbi, and announce that I am a Jew!
Preparing for our Wedding
Our Rabbi says that we must get married quickly so that we can be together after such a long time apart.
My husband is returning to England for a short time as he is still teaching.
Willing Helpers
Friends willingly agree to any request that I make for helping to prepare for our wedding day.
A friend from Ulpan offers us her garden as the venue for our wedding. Another is lending us a very special tallit (prayer shawl) for our Chuppah. Since the tallit is a family heirloom, it is a mitzvah for us to get married beneath it, she explains.
Someone is lending me her beautiful flowery head covering.
One is accompanying me to my pre-wedding mikvah.
People are helping to set up the food and drink.
I mustn't forget to mention the men, who form a minyan, hold the poles of the Chuppah (not shown in my artwork), read the Ketubah (Marriage Contract), recite the Sheva brachot (Seven Blessings), and more.
Rabbis
Rabbis are happily agreeing to officiate at our wedding, and take part in the Ceremony.
I could go on – these are just some of the ways people are helping us.
White symbolising spiritual love and joy
A young friend is coming with me to choose a wedding dress, insisting that I wear white. She is explaining that, as I am a new person, this is appropriate.
My husband is buying a Kittel, a white robe.
Friends are setting up a 'Bridal Chair', all covered in white, for me.
In the morning, on our wedding day, my husband is buying lovely white flowers for my bouquet.
White is a symbol of us being, 'together in spiritual love and joy'.
Together at last!
Now it is our wedding day. The day has arrived for us to be truly 'together in spiritual love and joy!'
What next?
This is just the beginning of my story. The start of living a truly Jewish Life, which is an ongoing process.
I hope that you enjoy reading a little bit of the background story of my wedding artwork.
You might like to leave a comment. I am always happy to read them.