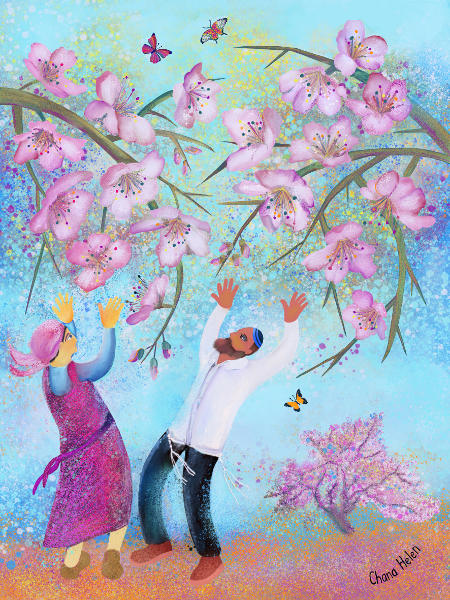 Loving Trees; Blessing over Trees
Blessing over Trees. Loving trees; enjoying saying the blessing over blossoming fruit trees.
I feel fortunate to live in Beer Sheva, in Israel, where the spring comes early. I love to walk out in nature in March (in the Jewish month of Nisan). I look for the blossoming fruit trees. If I find one I say the once a year blessing over blossoming trees.
Beautiful Almond Trees
Usually, the ones that I see in blossom first are the almond trees. I feel such joy when I see these trees covered in their glorious pink and white.
I like to move close to the trees and see the beautiful subtle shades of the petals, opening out to show the darker pinks of their spidery stamens.
Saying the Blessing over Blossoming Trees
I enjoy saying the special blessing over fruit-bearing trees.
This is the wording of the blessing;
"Blessed are You, Lord, Our God, King of the Universe, for nothing is lacking in His universe, and He created in it good creatures and good trees, to cause mankind pleasure with them."
Blessing over Trees Prints
I am thankful for the beautiful trees. The wonders of Creation uplift me.
In my digital artwork, 'Blessing over Trees', I paint the love, the excitement, that the man and his wife feel when they see the almond trees full of blossoms. They are reciting the Birkat Ha-Ilan (the Jewish Blessing over Trees).
An American customer writes after buying a large print of ' Blessing over Trees' on canvas:
'This painting is just as beautiful in person as it is in the image. The colors are pleasantly vibrant and it just radiates the joy the artist must have felt when she was painting. What a beautiful way to bring the outdoors in and to experiencIe the thrill of springtime all year.'
"There is always Music amongst the trees in the Garden, but our hearts must be very quiet to hear it."

― Minnie Aumonier