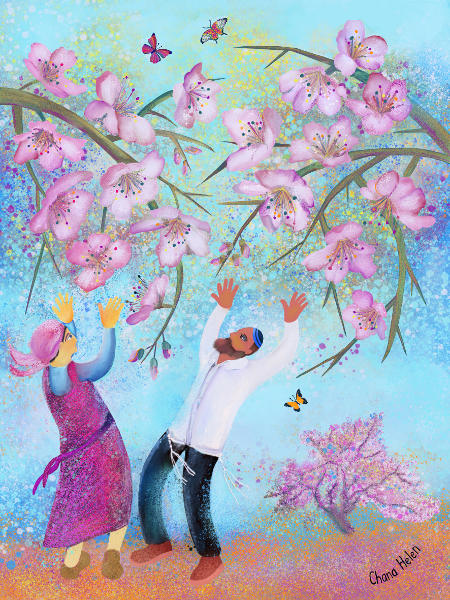 First of all, I love the spring. One of my favorite things is to see the blossoming trees. When I see the trees in bloom which were dry and withered in winter, I feel revitalized. Watching the transformation of nature I am reminded of the wonders of Hashem's Creation.
Now that Purim is over, we can look forward to the month of Nissan which ushers in the spring. This is the time to say the special blessing over fruit-bearing trees. We have only one chance a year to say this beautiful blessing. I, for one, will try to keep my eyes open so that I don't miss the opportunity.
A man and his wife in my painting are excited to see the almond trees full of pink and white blossoms.
They are reciting the Birkat Ha-Ilan. The blessing is found in most prayer books, and it is loosely translated as:
"Blessed are You, Lord, Our God, King of the Universe, for nothing is lacking in His universe, and He created in it good creatures and good trees, to cause mankind pleasure with them."

I hope that many of you will see beautiful blossoming fruit trees, feel uplifted, and be able to give thanks to the Creator for His wondrous works.