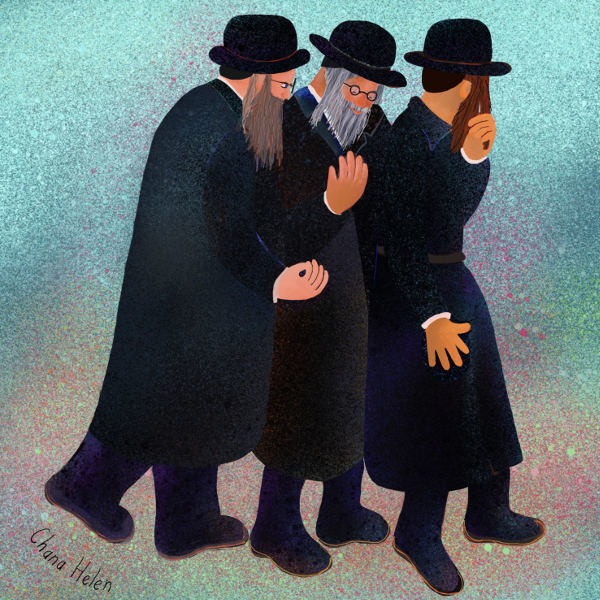 My Jerusalem digital paintings are part of a learning curve for me as an artist.
Until recently, I painted mainly in oils. In particular, Jerusalemites may have seen many of them, as they have been on show at Hechal Shlomo, where, in recent years, I have had two solo exhibitions.
Indeed, I might still be working only on actual canvases if I hadn't run into a problem.
The Problem
I started my digital artwork after struggling with some commissioned poster designs in 2015.
Using oil paint, I was finding difficulty fulfilling the orders to a deadline, due to the slow drying time of the medium.
Subsequently, I wondered what I would do if I got future commissions.
Then one day in 2015, I found the answer
On the train on the way to Leeds, whilst returning from visiting my family, my husband suddenly asked, 'Shall we get off at Salford and go to the Salts Mill David Hockney exhibition?'
Actually, I thought this was a great idea, as I have always liked a lot of Hockneys artwork.
In fact, I first saw his sketches whilst studying at Bradford College of Art, where he also studied shortly before me. I remember at the time thinking, 'Wow. Who did these?'.
To get back to the point, we soon arrived at Salts Mill Gallery, and spent a long time viewing David Hockney's permanent exhibition.
However, the best part for me was his new 'The Arrival Of Spring' paintings. All of the art was digital. Most interestingly, his earliest digital art was done on his phone. Hockney did it for fun, to send to his friends. The later pieces on show were done on his ipad.
All in all, I was intrigued to see the development of his artwork on display.
In sum, my interest in digital art, triggered by the Hockney exhibition, continues. To start with, like Hockney, I used free software, and a simple stylus on my phone.
---
After a while, finding that I was enjoying the technique very much, I invested in a large ipad specifically to use for digital art.
More Commissioned Illustrations
Soon after buying my ipad I started doing some line drawings to illustrate two of Ruth Fogelman's poetry books. I was finding joy in digital art. Working digitally helped me make changes more easily, and, of course, without the need for drying time.
Jerusalem Digital Paintings
However, digital art is not, for me, simply a practical solution for my illustrations.
It is thrilling to have found a new exciting medium to use alongside my oil painting..
So, I love painting on both virtual and actual canvases..
In conclusion, I hope that you enjoy looking at my Jerusalem digital paintings. I hope you understand a little bit about their background.
---
"I had always planned to make a large painting of the early spring, when the first leaves are at the bottom of the trees, and they seem to float in space in a wonderful way. DAVID HOCKNEY
---